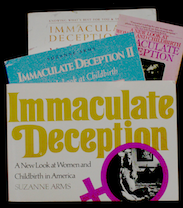 AudioCD 09. "Immaculate Deception" with Suzanne Arms
$ 2.00
Description
Have you heard Suzanne Arms speak, or read her groundbreaking book, IMMACULATE DECEPTION [named a New York Times Best Book of the Year]
By popular demand, these talks are now available in 11 downloadable audios that you can listen to now as she reads from IMMACULATE DECEPTION,  AND shares personal commentary on:
The History of Childbirth
The Conscious Baby from in-Womb on
Birth Practices and preparing for Birth
The Mother-Baby and their unique Bon
The Human Brain, Trauma & Healing
Vulnerable Boys & Men
Primal Patterns that shape us – as adults, as children, as families
The Roots of Anxiety, Depression and chronic Illness
Societies rooted in Fear & Defense vs. Love & Trust… Peace or War
… And More
"Timely and Timeless"  "A compelling listening experience…"
For Parents & grandparents… Professionals in health & human services… Students & Practitioners… activists & policy makers
Whether you've ever had a baby, plan to, or never will have… You were Born!
A special gift to any pregnant woman or student.
Download & Listen to any part for $2.00 per segment.
GET THE 1st HOUR for FREE