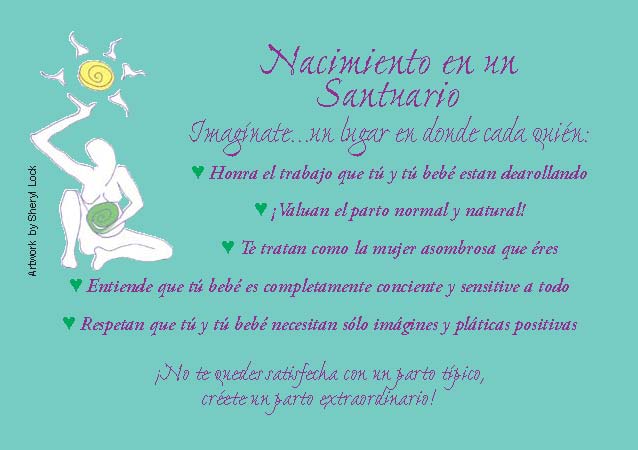 Birth in a Sanctuary – Spanish Version
$ 1.25
Description
NOTE: This is a spanish version so the below text will be in spanish.
FRONT:
Birth in a Sanctuary Imagine…a place where everyone:
Honors the work you & your baby are doing
Values & trusts natural, normal birth!
Treats you as the amazing woman you are
Knows your baby is fully conscious
and sensitive to everything
Respects that both of you need only calm and also positive words
Don't settle for a typical birth, create an extraordinary one!
BACK:
Your baby & you already know how to birth successfully. The knowledge
is in your body. However, hormones released by worry & fear can slow
the process and cause problems. So do induction all drugs and epidurals.
Do insist on an environment that gives you support both and privacy
(because birth hormones are sexual hormones)
Don't
Say No
allow induction, scheduled cesarean, immediate cord-cutting, or any separation
from your baby in the first 6 hours after birth
to circumcision and baby formula
We have information, ideas, conferences + inspiring books & films you need
Available in English also