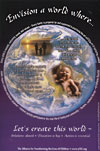 Description
(actual size 12.5″ x 18.25″)
Envision a world where…
…we know that how we treat the child is how the child will treat the world.
…each child's nature is cared for as one would care for a garden, so it can unfold at that child's own rhythm and pace.
Every child is wanted, welcomed, loved, and valued. Every family is prepared for and supported in practicing the art and science of nurturing children. Adults respect children and honor childhood. Children joyfully participate in the vital life of family and community. Dynamic, resilient life-honoring cultures flourish.
Let's create this world ~ Solutions abound, Education is key, Action is essential.